Defining digitization
by Patrick Mackinlay
Singapore, March 6th, 2019. Many of our clients wish to transform the way business is done by leveraging enabling technologies such as:
Big data and analytics
Machine learning and autonomy
Augmented/virtual reality
Cloud and mobile
Industrial IoT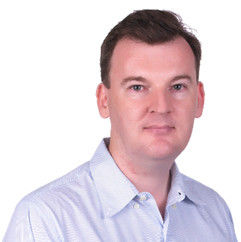 Patrick Mackinlay, Principal Consultant at TecSurge, directs product management and technology for the company. He holds a bachelor's degree in Computer Science from Curtin University, and has over 20 years of experience in the plant design industry.
Prior to joining TecSurge, Patrick held senior technical and consulting roles with NRX and Intergraph, after 9 years with several EPCs as a systems analyst and administrator.
These technologies require legacy and existing physical plant and engineering data be digitized, and then modernised, cleansed and consolidated. During my conversations, I realised that often we don't speak the same language. So, for your benefit and mine, here's what I typically tell them:
Before we start to discuss how this challenge can be addressed, we must first ensure we have a common understanding of the applicable terminology. Borrowing from Wikipedia, we define:
Digitization as the conversion of analogue information (such as paper and physical objects) into digital format, typically through scanning technologies, but also often involving some manual data entry.
Digitalization refers to changing business processes to take advantage of digital systems and information (for example, using a 3D modelling system to produce fabrication and construction deliverables).
And finally, digital transformation is defined as the outcome or result of digitalization.
Using these definitions, and working backward, it's clear that many companies have an interest in transforming aspects of their business and can see the possibilities for innovation opened through the adoption of new technologies.
In addition, we know that all the exciting leading-edge technologies being brought to market now require digital information as an input and are most effective when outputs can be returned to a digitalized system, forming an automated digital feedback loop.
As an example, consider an autonomous vehicle or drone designed to inspect piping. Such a solution requires input about the physical routing of the piping and the location of other plant, and about the inspection schedule and details of the inspection points. Further, such a solution would be most effective and beneficial when inspection results are automatically reported to the plant maintenance system for record keeping and preventative or corrective action planning.
From our experience, we know that engineering data and processes typically exist at different stages of digitization and digitalization, depending upon each plant's own unique history, circumstances and challenges. Bringing these input data sets up to a common standard of completeness and accuracy and digitalizing the associated work processes is the key to enabling the digital transformation of your plant.
If you would like to discuss this topic further, please leave me a comment below or contact us via our web site or email.