Embracing tough questions
by Andrew Wilson
Singapore, August 14th, 2017. I was recently honoured to be asked to speak at the opening of the TecSurge Service Operation Centre (SOC) office in Cebu, Philippines. Below is a summary of my speech.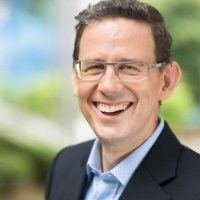 Andrew Wilson, Managing Partner at Vaughan Govier Pte Ltd, is a shareholder at TecSurge. Vaughan Govier supports business owners and senior management teams as they build high performing organisations.
Today is a celebration, a significant milestone in the history of TecSurge. This small Singapore company of German heritage now has a strong presence in the Philippines. It is a success. We are already planning on moving to a larger space.
Like life, the foundations of success were founded years ago. Back to 2002 and the story of two German entrepreneurs. Their business model was simple. In these days of complex business models, IT frameworks, cloud services and who knows what will come up next, it is easy to forget that true value is created when you solve a problem for someone.
When a couple of young intelligent guys knocked on doors and said, we know how to solve problems with your engineering systems, doors started to open, relationships were developed and trust was earned.
Fast forward to 2017 and the world is not that different. This SOC exists because it solves problems. Doors have already opened, relationships are being developed and slowly trust is being earned. If every day we come to work and continue to solve problems, it will continue to grow.
By the time I met Anton, he was running a successful business and starting to reflect more deeply on the business and its direction. Hard questions with fewer answers. Life throws many strange questions our way.
There are two types of people. One group parks tough questions and pushes them to the back of our minds. The second group embraces them. While members of the push-to-the-back-of-the-mind group far outnumber the embrace-tough-questions-group, the embrace-tough-questions-group is more common than you may admit. I see many member of this group in front of me.
Please join us in the embrace-tough-questions-group. It's fun, it's immensely satisfying and it's how we work. This office is the answer to some tough questions.
Those questions lead to opening the SOC in Cebu! It's obvious!
Today's it's obvious but it wasn't obvious a couple of years ago.
Let's put the last couple of years in context. June 2014 the price of oil peaked and then it started its drop. The world was changing and new business models would be needed.
In January 2015, a group of us met in Abu Dhabi. For three days, we explored possible futures. We started to see a business solving a wider range of problems, based on managed services, on demand, cloud, with a large centralised pool of engineering talent. "TecSurge" was conceived in Abu Dhabi on the 25 January 2015. After an absolute whirlwind, by the end of May we were at the MGM Grand in Las Vegas announcing the company to the world at HxGN 2015. 2015 was a crazy year. One of Anton's many strengths is his optimism. We shared that confidence, drew strength and built a new business.
December 2015 the price of oil completely crashed. The industry imploded. 2016 was hell.
Projects were cancelled. Project approvals were delayed. Payments were delayed. People who were originally very keen to explore our new offerings were suddenly wondering if they still had a job. Many lost their jobs.
We were in trouble, but still with a compelling idea. We were creating something new and something that solved a common and very real problem. It's not my place to name specific people however many of you supported the company through those tough months in very real and personal ways. You know who you are. Thank you.
Each month a new problem was solved, each month the company moved forward. To our new friends please know you are not joining a shallow community. This is a community with substance.
2017 was still hard yet the company stabilised and grew. At the core we are engineers, we are very good at solving problems, so we did.
Now we have a new trick in the toolbox. You. This office. We had a fresh offering and a competitive advantage. Slowly doors are opening, relationships are developing, trust is being earned. Our capability here is a central part of our strategy.
Congratulations to Anton. It's been a heck of a ride. Congratulations to those who have been together with us in this journey. Welcome to our Filipino friends. Let's celebrate and enjoy the day!
If you're interested in discussing how TecSurge can help your business, please leave a comment below or contact us today.