"Working smarter", not harder
by Manny Yap
Cebu, October 10th, 2018. I have been with TecSurge for almost 2 years and my time has been full of challenges and opportunities. When I first joined, it was like a "culture shock" for me since I was used to multi-year, long-term engineering projects, whereas most TecSurge clients are looking to address short-term requirements. While it took me some time to adjust, it also created opportunities for me to learn about new software and expand my skills. The chance to increase my knowledge is what I like most about working for TecSurge: before, I was just a Smart 3D Administrator, but now I know Smart Reference Data and other applications as well!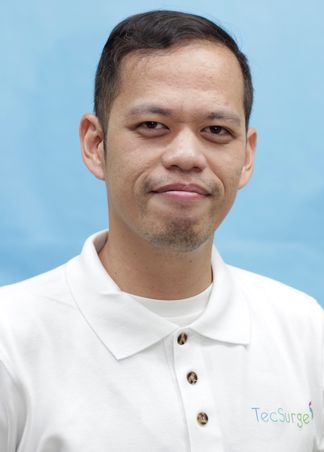 Manny Yap, Senior Solutions Engineer (SP3D/SPRD) at TecSurge, is based in Cebu, Philippines. He has been in the Petrochemical Plant Engineering and Oil and Gas Industries for more than 10 years and has extensive experience in engineering and systems design through different and numerous EPC and FEED projects.
Working with the TecSurge team has also opened my eyes to the fact that there are people willing to share their skills, ideas and knowledge to make my own work more efficient. For instance, one recent project involved a migration from PDS to Smart 3D. Instead of manually modelling pipelines in Smart 3D, we used TecSurge tools to automatically route the piping based on a Microsoft Access database file extracted from PDS. This is what I call "working smarter", not harder.
Another recent project for a piping system supplier in Switzerland involved developing piping specifications from first principles, based on the client's piping parts catalogue. This challenge was totally new for me. Not only was I relatively new to Smart Reference Data, but the project involved the creation of entirely new piping components, and development of piping specifications from the ground up, rather than from paper or engineering specifications provided by the client. With great teamwork, and excellent collaboration with our client - working smarter, not harder - I think we exceeded expectations!
TecSurge is a company that depends on recognising what the market requires and innovating to meet those needs as efficiently as possible. This results in highly affordable services and delivery schedules without compromising the excellent quality expected by our clients.
I've seen firsthand how working smarter and not harder benefits both my own career, and TecSurge as a company; seeing our clients come back for repeat work shows their satisfaction with us and makes me proud to work for TecSurge.
If you're interested in discussing how TecSurge can help your business, please leave me a comment below or contact us today.