Equipment Package Migration
Data Migration and Transformation
Summary
Under this service, TecSurge migrates 3D model data of equipment packages from the equipment vendor's source format to a project or client specified format. Secondary deliverables may include extracted isometric, orthographic and detail drawings, as well as reports such as tag indexes and material take-offs.
TecSurge has recent experience with migrations from CADWorx and PDS to Smart 3D. Requirements involving other combinations of applications, including those from Autodesk, AVEVA, Bentley, Tekla (Trimble) and others can be addressed due to TecSurge's expertise and specialisation.
Differentiators
Familiarity and expertise with a wide range of 3D modelling solutions
Thorough understanding of industry, client and project expectations
Highly efficient data migration supported by proprietary automation tools
Challenges
Equipment packages are an essential part of most process industry projects, and integrating such packages into the overall plant design is a common challenge faced by engineering and design organisations.
One of the important facets driving this challenge is that the application software used for design and modelling by equipment vendors is entirely different, and typically incompatible (or compatible only at a very superficial level) with the software used for plant layout.
An increasingly popular approach to address this challenge is to contractually oblige package vendors to prepare and deliver 3D models using the same design software as the complete plant design, such as Smart 3D, PDMS, etc.
This approach delivers important benefits to the EPC/EPCM and downstream to the plant owner, but presents many package vendors with a challenge in adopting software solutions with which they may be unfamiliar, lack expertise and which are not fit for their own design and manufacturing purposes.
TecSurge's Equipment Package Migration service enables package vendors to perform design and manufacturing using established and preferred solutions, while ensuring the resulting 3D models can be transferred and integrated into the overall plant design seamlessly and efficiently.
Deliverables
The primary deliverable from this service is typically a backup or archive of the migrated equipment package in the native format of the target plant design system. The data migration is prepared using the client-specified version, database and modelling philosophy, to ensure a seamless handover and integration of the equipment package into the plant design.
Secondary deliverables vary based on specific project requirements, but may include:
Catalogues, specifications and symbols
Drawings of various types
Quantity and quality reports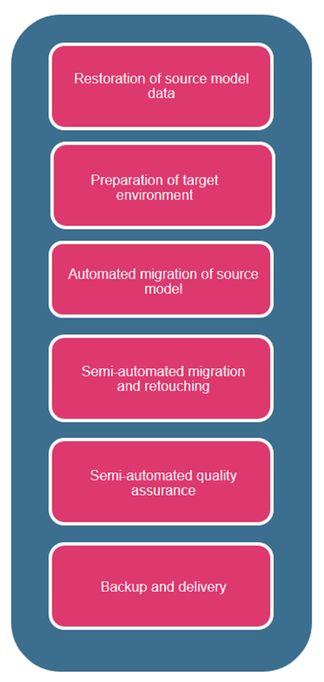 Work Process
TecSurge manages the execution of Equipment Package Migration as a professional service involving a dedicated project manager and our expert services team. After project kick-off, detailed execution following the general broad steps:
Restoration of source model data
Preparation of target environment
Automated migration of source model
Semi-automated migration and retouching
Semi-automated quality assurance
Backup and delivery
Quality Assurance
TecSurge uses proprietary quality assurance tools to automatically compare the source data with the migrated result, to identify and correct any discrepancies prior to delivery.
Typically, the migrated model and other deliverables are transmitted to the equipment vendor, who provides them in turn to their client. TecSurge can provide technical assistance during this process to ensure a successful outcome.
Getting Started
To estimate the schedule and cost for this service, we typically request the following preliminary information:
What is the quantity and scope of the equipment packages?

Why: This information has a direct impact upon the migration cost and schedule.

What is the client handover requirement, including target software, version, database and handover specification?

Why: TecSurge will utilise the specified target environment during the project to ensure successful completion.

What are the project schedule constraints?

Why: Aggressive schedules can be met, but can increase project cost.
If this service describes your situation, and you're able to provide the requested information listed above, please contact us today for a quotation. Let's talk.