We monitor and maintain your applications for you.
Customer Benefits
Proactive problem resolution and customer notification

Maintain integrity and reliability of your applications

Achieve optimum system performance

Comprehensive systematic delivery

Provided on a predefined schedule
Our Solution
TecSurge provides Scheduled Administration as a remote service and takes responsibility for preventive and corrective actions. We maintain the security of your operational environment, provide reliability and optimise the performance of the supported applications.
All tasks are completed within agreed operational or maintenance windows to minimise disruption to your production environment, with an example shown here:
Scheduled Administration
Typical Frequency
Typical Execution Window
Application Monitoring

Application Monitoring

Most applications support a variety of standard verification, reporting and log file diagnostic functions. We exercise those functions on a regular basis in order to identify any unexpected warnings or errors, and provide advice on actions intended to mitigate or eliminate the root causes.

Weekly
During business hours
Backup Auditing

Backup Auditing

Our team validates the backup and recovery configuration by performing a complete disaster recovery simulation. The simulation ensures all necessary technology, process and personnel are equipped to recover effectively in the event of an actual outage scenario, and that business continuity planning is adequate.

Quarterly
After business hours
Backup Monitoring

Backup Monitoring

We ensure that all application data is backed up according to best practice procedures. Even though most backups are implemented using automated processes, regular monitoring of the automated processes and verification of the outcomes is critically important to ensuring protection against data loss.

Weekly
After business hours
Batch Job Monitoring

Batch Job Monitoring

Many applications enable recurring processes to be performed in a batch or offline mode. We ensure that these scheduled jobs are being triggered and running successfully by reviewing their history and log files on a regular basis.

Monthly
During business hours
Custom Task Execution

Custom Task Execution

We perform administrative tasks that are related to the supported application, but customer-specific or unique to the implementation.

Custom
Custom
Database Monitoring

Database Monitoring

For many applications, a relational database is a critical element in the environment. We review the database configuration to verify it is properly configured to support the active workload, and that database integrity is not placed at risk. Typical activities performed include regular reconciliation of database configuration parameters with respect to demand, reviews of database server log files, and verification of database integrity through a variety of tools and reports.

Fortnightly
During business hours
License Management

License Management

Reliable access to software licensing technology is a critical aspect for most engineering applications. We perform the ongoing request, receipt and installation of license keys, maintenance and monitoring of the licensing software, and monthly reporting of license consumption necessary to deliver application availability.

Monthly
After business hours
Performance Monitoring

Performance Monitoring

Our team strives to maintain the optimum performance of applications by inspecting performance impacting parameters, and ongoing measurement and monitoring of end-user performance metrics. We deliver advice in terms of suggested configuration changes, or infrastructure optimisations and improvements to sustain user productivity, as well as performance trend analysis.

Weekly
Peak utilisation periods
Security Auditing

Security Auditing

Ensuring that user access to applications is appropriately limited is difficult in dynamic environments, where staff moving between roles and projects can often take effect ahead of IT security policy changes. We ensure that access rights are correctly configured by regularly summarising and reporting the active access roles and rights for the application, to enable verification by the business.

Quarterly
Preferred time
Storage Monitoring

Storage Monitoring

Our team ensures that adequate storage space is configured and available, by monitoring active and historical trends in consumption. Such monitoring extends to simple disk storage space as well as to more complex structures such as database tablespace or file storage, and log file limits, retention and rotation policies.

Quarterly
After business hours
Update Analysis

Update Analysis

We assess fixes and updates issued by the applicable software vendors, and identify which of these are applicable to the operating environment. Such updates may affect the performance, stability or security of the application software or its dependencies. When necessary or recommended updates are identified, we deploy them into the landscape following strict testing and change management procedures.

Weekly
During business hours
Scheduled Administration Frequency and Execution Windows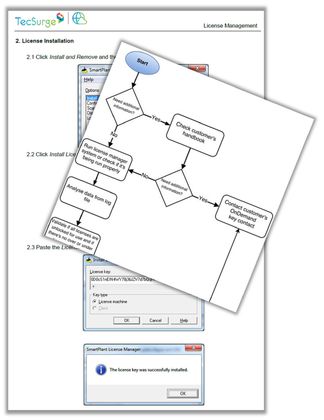 TecSurge takes a structured approach to Scheduled Administration. Our team of technical and solution engineers applies industry best practice procedures and delivers services that may have challenged your traditional IT administration team.
Our best practice and recommended processes are reviewed during the onboarding process, at which point you are able to configure various aspects of the service delivery, including:
Frequency of Scheduled Administration

Applicable range of Scheduled Administration services

Maintenance and operational windows for Scheduled Administration

IT change management processes
We will align our Scheduled Administration service delivery with your current internal or external IT service provider's policies and procedures.
If you would like more information about Engineering Managed Services, contact us today for a TecSurge OnDemand demonstration.