We perform system administration tasks on demand.
Customer Benefits
Full service coverage with predictable monthly pricing

Governed by service level agreement (SLA)

Easy-to-use application-specific service catalogue

Traceable and transparent request process

Optional client approval prior to fulfilment
Requested Administration Service Catalogue
The following are high-level descriptions of the Requested Administration Services included in TecSurge OnDemand. These generic outlines are matched by highly detailed application-specific descriptions in the service catalogue available to end users, describing service levels, operational impacts and procedural aspects of each service.
Requested Administ­ration Service
SPMat
SPRD
SPF
SPOOLGEN
S3D
PDS
SPI
SPP&ID
SPEL
Backup Data

Backup Data

Although regular backups are performed and verified as a Scheduled Administration service, there are occasions when a backup is requested by a user or a project prior or after some specific milestone. This service can be requested to generate the backup and deliver the results to the end user for a variety of scenarios.

✓
✓
✓
✓
✓
✓
✓
✓
✓
Configure License

Configure License

This service is used to request the installation or removal of a software license key, or a change to the configuration of the license management software.

✓
✓
✓
✓
✓
✓
✓
✓
✓
Configure Settings

Configure Settings

This service allows changes to be made to the application's settings. This includes actions such as altering global project or application parameters and user-specific defaults and settings.

✓
✓
✓
✓
✓
✓
✓
✓
✓
Create Project

Create Project

Configuring new projects within an existing application typically involves a multi-step process, often tailored to match client-specific procedures, and this service exists to address the requirement. Inputs include information specific to the project and reference data that should be configured, as well as which users or groups of users should be provided access.

✓
✓
✓
✓
✓
✓
✓
✓
✓
Delete Project

Delete Project

Either because it is being archived, or because it represents temporary data that is no longer required, there is sometimes a need to permanently delete project data. This service performs the steps necessary to remove the project from the application, releasing the consumed system resources.

✓
✓
✓
✓
✓
✓
✓
Generate Report

Generate Report

There are often situations in which a question cannot quickly be answered using existing configured application reports, and for which a formal report development is not justified. This service addresses these scenarios by using the ad-hoc query and reporting features of the application to deliver a fit-for-purpose data set to the requesting user.

✓
✓
✓
✓
✓
✓
✓
✓
✓
Induct User

Induct User

This service assists users to gain initial access to the application and its data. It is typically requested by users who are new to the organisation or project, or who have been granted additional rights to data or functionality with which they are unfamiliar.

✓
✓
✓
✓
✓
✓
✓
✓
✓
Manage Roles

Manage Roles

This service is used to request changes to user account rights and privileges for the application, including actions such as the creation or modification of existing application roles and granting or revoking user access to a project, module or function.

✓
✓
✓
✓
✓
✓
✓
✓
Manage Users

Manage Users

This service is used to request changes to user accounts in the application, such as creating a new user account, modify existing user accounts (including password reset), or disabling existing user accounts.

✓
✓
✓
✓
✓
✓
✓
✓
Modify Drawing Template

Modify Drawing Template

Many engineering applications support the use of drawing templates, which contain the background drawing sheet, as well as key tabular and identification information. This service supports changes to existing templates, such as changes to static graphic or text elements, the addition of template attribute fields, or the adjustment of font or style elements of the existing template.

✓
✓
✓
✓
✓
✓
Modify Report Template

Modify Report Template

This service is used to request small modifications to existing application report templates. Examples of such changes include the addition or removal of reported attributes or calculated values, reformatting or repositioning of existing report elements, and changes to grouping, aggregation, sorting or sequence of tabular report elements.

✓
✓
✓
✓
✓
✓
✓
✓
✓
Modify Symbol

Modify Symbol

For engineering applications which utilise 2D or 3D symbols, this service offering allows changes and adjustments to be requested. The service does not extend to the creation of entirely new symbols, but allows most minor graphic and non-graphical modifications to be delivered, and the changes incorporated into the application configuration.

✓
✓
✓
✓
✓
✓
Perform Custom Activity

Perform Custom Activity

This offering enables a user to request an administrative task to be performed which is not listed in the available service catalogue.

✓
✓
✓
✓
✓
✓
✓
✓
✓
Prepare Database

Prepare Database

Many engineering systems applications utilise relational databases as data repositories, and this service enables new databases to be provisioned on demand. Where required, this can include the installation of the underlying RDBMS software, the creation of the database itself, and the initialisation of the database to match the application for use.

✓
✓
✓
✓
✓
✓
✓
✓
Prepare Handover Package

Prepare Handover Package

This service captures a sub-set of existing application data intended to be used to hand over information to a 3rd party. Common scenarios include sending project setup data to a sub-contractor or partner to facilitate the configuration of a work-sharing environment, and to deliver project data to clients or fabricators at pre-defined milestones.

✓
✓
✓
✓
✓
Restore Data

Restore Data

When data is changed in a way which is no longer desired, this service allows prior versions of the information to be restored form the backup system. Depending upon the specific application, this recovery may be performed in a global, project-based or individual deliverable basis.

✓
✓
✓
✓
✓
✓
Setup Workstation

Setup Workstation

This service configures a desktop computer with all necessary prerequisites and settings to enable the user to access the application.

✓
✓
✓
✓
✓
✓
✓
✓
✓
Update Application

Update Application

When software updates such as hotfixes, patches or version upgrades are delivered by vendors, this service is used to initiate the necessary deployment activities. The service includes the installation of the software updates and any prerequisites for both client and server systems.

✓
✓
✓
✓
✓
✓
✓
✓
✓
Application & Requested Administration Service
Our Solution
TecSurge offers a comprehensive range of Requested Administration Services for your engineering applications. The full Requested Administration Service Catalogue is included in the TecSurge OnDemand contract and price: this component of TecSurge OnDemand covers all the tasks that your end user would typically request from your systems administration team.
Based upon the applications covered by your TecSurge OnDemand agreement, and their functional or project role, application end users are free to browse and select from any of the Requested Administration services to which they are entitled.
Using the portal to request administrative services is a simple three-step process: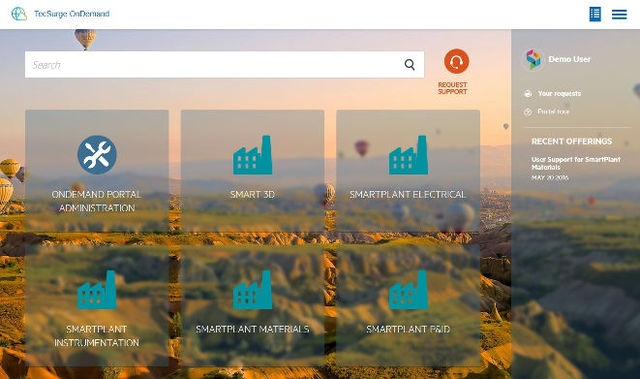 TecSurge will assign the work, fulfil the request, and keep you notified throughout to ensure you're kept informed each step of the way.
TecSurge develops and continually improves best-practice procedures to clearly identify the detailed tasks associated with each request. Our team of experts constantly monitor and apply these procedures to ensure the consistent and timely delivery of administrative services to end users. Our process ensures your business and projects reliably receive the highest quality of service, with efficient interactions and predictable outcomes.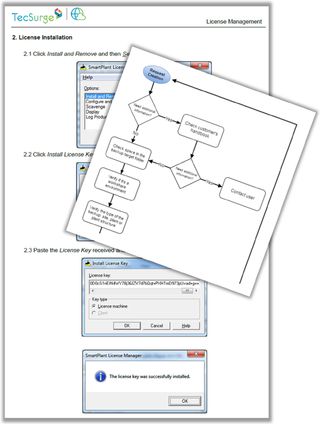 If you would like more information about Engineering Managed Services or any of the TecSurge OnDemand components, contact us today for a TecSurge OnDemand demonstration.