User Support
TecSurge OnDemand component
We answer your questions and resolve problems.
Customer Benefits
Unlimited user support

End to end, hands-on problem resolution

Application vendor management

Customer-specific knowledge base

Efficiency driven by structured onboarding process
User support delivers
Troubleshooting and resolution of any application problem or query

Timely and effective communication during request management

Management of application defects and enhancements requests with the vendor
The challenge
Engineering, procurement and construction industry application software is notoriously complex, and even the most experienced users can face problems preventing them from producing deliverables and meeting project schedules.
TecSurge OnDemand user support provides a superior alternative to the traditional approach of directly hiring application specialists to provide user support and troubleshooting. Our expert team applies a broad range of application and industry experience to provide first class application support directly to your end users, or via nominated focal points in your organisation.
Our staff have the benefit of working with multiple customers, giving them a broad perspective on possible causes and solutions for application problems. Specialising in this field ensures TecSurge has a vested interest in quickly resolving problems and answering questions for your project teams, enabling you to achieve your productivity targets.
Our Solution
TecSurge OnDemand user support is based upon the industry-standard ITIL® framework, and backed by a modern, powerful and user-friendly service desk solution. We apply best practices developed over many years from the broader IT industry, to ensure your issues are tracked and resolved in the most effective, efficient and transparent manner.
Unlike traditional software product support services, TecSurge OnDemand acts as a fully integrated member of your organisation. Our onboarding process ensures that our staff are familiar with the context of your application usage, and able to access your systems hands-on to fully understand, reproduce, diagnose and resolve the problem or question that you have encountered.
Driven by our managed services agreement, we have an obligation to meet our service level targets, reducing risks to your deliverable production and project schedule. We assign a single point of contact to each opened request, delivering a continuity of interaction and communication. Where required, support requests are escalated internally to our application experts, or submitted to the application vendor support process for resolution.
How it works
When users encounter a problem, or have a question related to application functionality, they are able to request assistance using any of three convenient channels: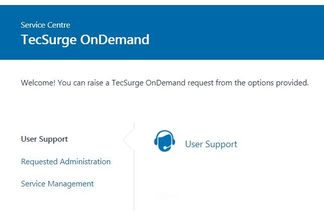 In each case, support requests are registered in our service desk, given a unique tracking number, and prioritised and assigned to a relevant expert.
For support requests related to production outages, an accelerated incident management process with abbreviated response and action times is triggered, in order to ensure a speedy resolution.
The TecSurge team will work with the user to resolve each request via a transparent, well documented process that includes all necessary stakeholders, such as the system vendor when necessary. Notification emails are triggered to the end user whenever the ticket is updated, ensuring end users are kept fully informed at every stage.
In addition to being able to create and review support requests, portal users have online access to a customer specific and industry best practice knowledge base. The knowledge base is driven by a powerful machine-learning system, offering possible solutions to problems dynamically, even before the support request has been fully registered.
If you would like more information about Managed Services for engineering applications, or any of the TecSurge OnDemand components, contact us today for a TecSurge OnDemand demonstration.