Change in the global structure of CAXperts
Munich/Singapore, May 18th, 2015. CAXperts today announces a change in its global organisational structure, in order to better position for future growth.
CAXperts services division CAXperts Global Solutions Pte Ltd in Singapore will be spun off as TecSurge Pte Ltd. The new business will remain located and headquartered in Singapore. In addition to the current professional services offered, it will add a wide range of Managed Services for engineering software to its portfolio.
TecSurge Managed Services will provide clients with access to a global, 24x7 service desk.
The new business model consists of TecSurge Cloud, TecSurge Academy and TecSurge Service addressing a broad portfolio of industry applications, independently of the software product vendors.
As part of the new operational structure, Mr. Anton Schreibmueller will step down from his responsibilities as managing partner at CAXperts to become the new CEO & President of TecSurge.
Effective June 1st 2015, Rengan Jayakrishnan, Regional Sales Manager for India and Middle East at CAXperts, will transfer to the position of Global Sales Manager at TecSurge.
CAXperts GmbH in Germany will retain its headquarters in Ismaning, Germany, and continue to focus on producing high quality software that increases productivity and simplifies work processes.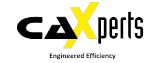 CAXperts was founded in 2002 based on the desire to support organisations to maximise the value they receive from their investment in engineering IT systems. CAXperts developed service offerings and software products that simplify work processes and key tasks to deliver high productivity to their clients, specifically in the process, power and marine industries. CAXperts delivers simplicity and efficiency through a wide range of standard software and solutions that are tailored to meet individual needs.
CAXperts is a registered trademark of CAXperts GmbH.
Contacts
Dipl.-Ing. (FH) Peter Schlegel
Managing Partner CAXperts GmbH
Carl-Zeiss-Ring 4 • 85737 Ismaning / Germany
Andy Osborne
Director Global Business Development
Carl-Zeiss-Ring 4 • 85737 Ismaning / Germany

TecSurge
TecSurge is an independent expert team providing a unique 24x7 worldwide service to efficiently apply, manage and support complex software applications for Engineering Procurement Construction and Owner / Operator companies. Our mission is to deliver applications that are ready for use and enable our clients to maximize ROI through scalability, predictability and simplicity. Previously a part of CAXperts, quality, reliability and working in a true partnership with our clients remains at the heart of what we do. TecSurge delivers increased value to our clients through TecSurge Cloud, TecSurge Academy and TecSurge Service.
TecSurge is a registered trademark of TecSurge Pte Ltd.
Contacts
Anton Schreibmueller
President & CEO TecSurge Pte Ltd
18 Boon Lay Way • #10-135 TradeHub 21 • Singapore 609966
Rengan Jayakrishnan
Global Sales Manager TecSurge Pte Ltd
18 Boon Lay Way • #10-135 TradeHub 21 • Singapore 609966
Marc Albani
Director Marketing & Communication TecSurge Pte Ltd
18 Boon Lay Way • #10-135 TradeHub 21 • Singapore 609966