Singapore, September 13th, 2017. Neste and TecSurge recently celebrated the final milestone and project completion of the Neste Singapore Refinery PDS to Smart 3D Migration and H&S Implementation.
We are delighted with the on-time, on-budget and high quality results achieved through excellent teamwork and close collaboration between the TecSurge and Neste project team members. By implementing this project, Neste will ensure a modern and up to date 3D environment in the future. The 3D models have high value as information assets and need to be maintained as the basis for engineering changes and to provide viewing models for plant maintenance and operation personnel.
"Job well done", said Mr Tatu Hasu, Steering Manager at Neste Singapore.
The Neste refinery in Singapore was commissioned in 2010, and produces exclusively renewable products, with a production capacity of 1 million tons of renewable fuels per year.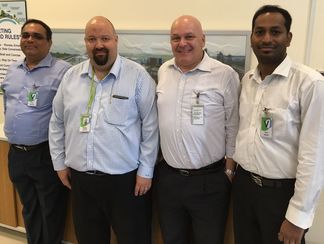 Customers selecting TecSurge to migrate plant model and drawing data from PDS to SmartPlant 3D benefit from reduced risk fixed price contracting, high quality through automation and thorough checking, and rapid delivery and flexible scheduling due to our experience, expertise and scalable methodology.
TecSurge focuses exclusively on helping our EPC, and owner/operator customers in the process and power industries to master challenges with Engineering & Schematics, 3D and Visualisation, Information Management and Materials Management applications and systems.
TecSurge lines of business include TecSurge OnDemand, TecSurge Academy and TecSurge Service.
---
For business inquiries, please contact Rengan Jayakrishnan, Global Sales Manager at rengan.jayakrishnan@tecsurge.com.
TecSurge is an independent expert team providing a unique 24x7 worldwide service to efficiently apply, manage and support complex software applications for Engineering Procurement Construction and Owner Operator companies. Our mission is to deliver applications that are ready for use and enable our clients to maximize ROI through scalability, adaptability and simplicity. Quality, reliability and working in a true partnership with our clients is at the heart of what we do. TecSurge delivers increased value to our clients through TecSurge OnDemand, TecSurge Academy and TecSurge Service.
TecSurge is a registered trademark of TecSurge Pte Ltd.
TecSurge mailing addresses
Service Operation Centre: TecSurge, Inc. • 7F FLB Corporate Center • Cebu Business Park • Archbishop Reyes Avenue • Cebu City 6000 • Philippines.
Corporate Headquarter: TecSurge Pte Ltd • 18 Boon Lay Way • #10-135 TradeHub 21 • Singapore 609966
Contacts
Anton Schreibmueller
President & CEO TecSurge Pte Ltd
Rengan Jayakrishnan
Global Sales Manager TecSurge Pte Ltd
Marc Albani
Director Marketing & Communication TecSurge Pte Ltd
Website http://tecsurge.com/
Neste in brief
Neste (NESTE, Nasdaq Helsinki) builds sustainable solutions for the needs of transport, businesses and consumers. Our global range of products and services allows customers to reduce their carbon footprint by combining high-quality and low-emission renewable products and oil products to tailor-made service solutions. We are the world's largest producer of renewable diesel refined from waste and residues, and we are also bringing renewable solutions to the aviation and plastics industries. We want to be a reliable partner whose expertise, research and sustainable practices are appreciated worldwide. In 2016, Neste's net sales stood at EUR 11.7 billion, and we were on the Global 100 list of the most sustainable companies in the world. Read more: neste.com