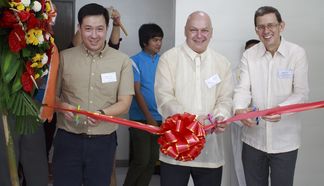 TecSurge Service Operation Centre Official Opening Day in Cebu City
Cebu City, August 4th, 2017. TecSurge today celebrates the Official Opening Day of its Service Operation Centre (SOC). It is the latest event in a series that is a sign of our long-term commitment to the Philippines and our employees in Cebu. SOC office operations were extended to 24 hours earlier in 2017 and last year we celebrated the receipt of the Certificate of Registration from PEZA.
Since then and following our TecSurge recruitment drive in Cebu City, we have rapidly expanded. We offer our staff exposure to a diverse range of clients, projects and technology, as part of a friendly and tech-savvy team determined to exceed our customer's expectations.
We celebrate the Official Opening Day of our TecSurge Service Operation Centre as a game changer, said Anton Schreibmueller, President and CEO of TecSurge. Many of our customers face economic challenges.
TecSurge focuses exclusively on helping our EPC, and owner/operator customers in the process and power industries to master challenges with their engineering systems and applications in Engineering & Schematics, 3D and Visualisation, Information Management and Materials Management.
We manage, configure and enhance our customers' applications on their behalf to lower our customers cost of operation, reduce their project risk and increase their responsiveness.
TecSurge lines of business include TecSurge OnDemand, TecSurge Academy and TecSurge Service.
Contact us for a discussion how our extended hours can benefit your business.
---
Find out about career opportunities at TecSurge.
For business inquiries, please contact Rengan Jayakrishnan, Global Sales Manager at rengan.jayakrishnan@tecsurge.com.
TecSurge is an independent expert team providing a unique 24x7 worldwide service to efficiently apply, manage and support complex software applications for Engineering Procurement Construction and Owner Operator companies. Our mission is to deliver applications that are ready for use and enable our clients to maximize ROI through scalability, adaptability and simplicity. Quality, reliability and working in a true partnership with our clients is at the heart of what we do. TecSurge delivers increased value to our clients through TecSurge OnDemand, TecSurge Academy and TecSurge Service.
TecSurge is a registered trademark of TecSurge Pte Ltd.
TecSurge mailing addresses
Service Operation Centre: TecSurge, Inc. • 7F FLB Corporate Center • Cebu Business Park • Archbishop Reyes Avenue • Cebu City 6000 • Philippines.
Corporate Headquarter: TecSurge Pte Ltd • 18 Boon Lay Way • #10-135 TradeHub 21 • Singapore 609966
Contacts
Anton Schreibmueller
President & CEO TecSurge Pte Ltd
Rengan Jayakrishnan
Global Sales Manager TecSurge Pte Ltd