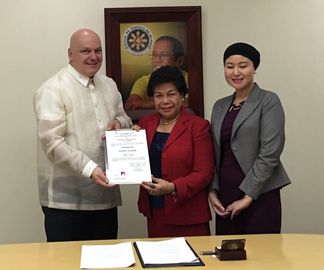 TecSurge obtains Certificate of Registration from PEZA
Manila, Philippines, January 7th, 2016. TecSurge takes part in an official signing ceremony with the Philippine Economic Zone Authority (PEZA) director general, Lilia B. de Lima.
PEZA - attached to the Department of Trade and Industry - is the Philippine government agency tasked to extend assistance, register and facilitate the business operations of export-oriented service facilities inside selected areas proclaimed as PEZA Special Economic Zones.
De Lima has been PEZA's director general since its inception 18 years ago and has grown PEZA to 286 economic zones with 3,000 companies thriving inside. Receiving the Certificate of Registration is a major milestone for TecSurge. Concurrent to the opening of its Service Operation Centre in the Philippines last year, TecSurge started the process to apply for its Certificate of Registration from PEZA.
The registration in combination with the TecSurge office PEZA-accredited facility in Cebu provides cost efficiencies that will directly benefit TecSurge customers.
"We celebrate the receipt of the Certificate of Registration from PEZA as a sign of our long term commitment to the Philippines and our employees in Cebu," said Anton Schreibmueller, President and CEO of TecSurge. "I can't think of a better way to start the New Year and to help our customers becoming more efficient while maintaining quality."
Solutions at TecSurge focus on supporting customers to master challenges specifically around Engineering Software. TecSurge Solutions are TecSurge OnDemand, TecSurge Academy and TecSurge Service.
TecSurge will manage, configure and enhance its customers engineering applications on their behalf to lower the customers cost of operation, reduce their project risk and increase their responsiveness.
---
Read more about the Philippine Economic Zone Authority (PEZA) director general, Lilia B. de Lima here.
Contact us for a discussion how our expanded infrastructure can benefit your business.
Find out about career opportunities at TecSurge.
For business inquiries, please contact Rengan Jayakrishnan, Global Sales Manager at rengan.jayakrishnan@tecsurge.com.
TecSurge is an independent expert team providing a unique 24x7 worldwide service to efficiently apply, manage and support complex software applications for Engineering Procurement Construction and Owner / Operator companies. Our mission is to deliver applications that are ready for use and enable our clients to maximize ROI through scalability, adaptability and simplicity. Previously a part of CAXperts, quality, reliability and working in a true partnership with our clients remains at the heart of what we do. TecSurge delivers increased value to our clients through TecSurge OnDemand, TecSurge Academy and TecSurge Service.
TecSurge is a registered trademark of TecSurge Pte Ltd.
TecSurge mailing addresses
Service Operation Centre: TecSurge, Inc. • 17/F i3 Building • Cebu IT Park (Asiatown) • Cebu City 6000 • Philippines.
Corporate Headquarter: TecSurge Pte Ltd • 18 Boon Lay Way • #10-135 TradeHub 21 • Singapore 609966
Contacts
Anton Schreibmueller
President & CEO TecSurge Pte Ltd
Rengan Jayakrishnan
Global Sales Manager TecSurge Pte Ltd
Marc Albani
Director Marketing & Communication TecSurge Pte Ltd
Website
http://tecsurge.com