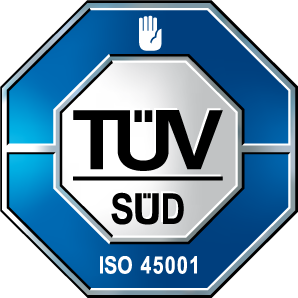 TecSurge achieves ISO 45001:2018 certification
Singapore, January 13th, 2022. TÜV SÜD recently completed an ISO 45001:2018 audit for TecSurge. The audit examined whether the company's occupational health and safety (OH&S) management system fulfils the requirements of the 2018 standard. TecSurge passed the audit in November 2021 and is granted certification from the Singapore Accreditation Council (SAC) via TÜV SÜD. The certificate remains valid for three years, subject to annual review audits.
The ISO 45001 international standard focuses on OH&S management and assures that TecSurge can monitor and continually improve our OH&S performance in promoting health and preventing injury.
Anton Schreibmueller, President and CEO of TecSurge, said: "We consider the health and safety of our staff in the workplace to be of the highest importance. Achieving this accreditation for our occupational health and safety management system demonstrates our commitment to maintaining our excellent record, and provides evidence that TecSurge shares this critical value with our clients and business partners. We elected to integrate OH&S processes into our existing ISO 9001:2015-certified management system, enabling us to consistently provide services that meet customer expectations and regulatory requirements."
Gaining ISO 45001:2018 certification reaffirms that occupational health and safety and continuous improvement are business as usual at TecSurge and that our strategy is built upon a sound quality management foundation.
Our three core competencies of OnDemand, Service and Academy can be simply delivered ad-hoc scaled to business and project demand, or as part of a predictable longer-term partnership. Feel free to contact us to start a discussion or discover more about our commitment to provide you with an unrivalled customer experience – always.
---
For business inquiries, please contact Anton Schreibmueller, Global Sales Manager at anton.schreibmueller@tecsurge.com.
TecSurge specializes in providing services for engineering data and software, and is unique in:
Being independent from engineering services and technology providers, offering impartial advice and solutions aligned with your interests.
Having the industry knowledge, technical expertise and manpower required to deliver results while minimizing disruption to your operations.
Delivering high quality results through focus, specialization and automation.
Using efficient, innovative methods and techniques to ensure you realise your ROI.
TecSurge delivers increased value to our clients through TecSurge OnDemand, TecSurge Academy, and TecSurge Service. Our quality management system is certified by TÜV SÜD according to ISO 9001:2015. Our OH&S management system is certified by TÜV SÜD according to ISO 45001:2018.
© 2022 TecSurge Pte Ltd. All rights reserved. TecSurge and the TecSurge logo are registered trademarks of TecSurge Pte Ltd. or its subsidiaries in other countries. Other brands and product names are trademarks of their respective owners.
TecSurge mailing addresses
Corporate Headquarter: TecSurge Pte Ltd • 18 Boon Lay Way • #10-135 TradeHub 21 • Singapore 609966
Contacts
Anton Schreibmueller
President & CEO
Marc Albani
General Manager
Website https://tecsurge.com/