TecSurge recertified to ISO 9001:2015
Singapore, July 21st, 2021. This ISO 9001:2015 recertification audit marks the completion of the first three years of TecSurge operating under a compliant quality management system. We are pleased to have successfully adopted and integrated this standard into our organization on all levels. We have assessed and documented numerous improvements year on year and are delighted that we are obtaining a confirmation of our efforts.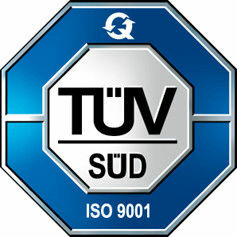 Anton Schreibmueller, President and CEO of TecSurge said, "I am happy to have a team that respects the value of our quality management system as an enabler of reliable growth for the company."
The ISO 9001:2015 standard focuses on the management of risks and opportunities and the ability to consistently provide services that meet customer and regulatory requirements. The standard also aims to enhance customer satisfaction ensuring growth and sustainability.
There were no nonconformities or minor nonconformities identified during our two-day audit.
The external auditor praised TecSurge for the commitment of the operational and senior management team through the process, recognizing that TecSurge is indeed:
passionate about continual improvement,
facilitating audits without a hidden agenda, and
demonstrating the utmost respect for client confidentiality.
TecSurge completed a recertification audit conducted by TÜV SÜD on June 2nd and 3rd, 2021, covering the full scope of certification for our Quality Management System (QMS) under the ISO 9001:2015 standard in the Service Operation Centre (SOC) in the Philippines, as well as the Corporate Head Office (CHO) in Singapore.
Given the continuing circumstances this year the entire audit was again conducted offsite utilizing telecommunication technology which, in our case, is reflective of our core business processes.
TecSurge first attained ISO 9001:2015 certification in 2018 via TÜV SÜD. The recertification in 2021 remains valid for three years, subject to annual surveillance audits. Our quality management system is certified by TÜV SÜD according to ISO 9001.
---
For business inquiries, please contact Anton Schreibmueller, Global Sales Manager at anton.schreibmueller@tecsurge.com.
TecSurge specializes in providing services for engineering data and software, and is unique in:
Being independent from engineering services and technology providers, offering impartial advice and solutions aligned with your interests.
Having the industry knowledge, technical expertise and manpower required to deliver results while minimizing disruption to your operations.
Delivering high quality results through focus, specialization and automation.
Using efficient, innovative methods and techniques to ensure you realise your ROI.
TecSurge delivers increased value to our clients through TecSurge OnDemand, TecSurge Academy and TecSurge Service.
The TecSurge Quality Management System (QMS) is certified by TÜV SÜD under the ISO 9001:2015 standard companywide.
TecSurge first attained ISO 9001:2015 certification in 2018 both from the Deutsche Akkreditierungsstelle GmbH (DAkkS) and Singapore Accreditation Council (SAC) via TÜV SÜD. The certification remains valid for three years, subject to annual surveillance audits.
© 2020 TecSurge Pte Ltd. All rights reserved. TecSurge and the TecSurge logo are registered trademarks of TecSurge Pte Ltd. or its subsidiaries in other countries. Other brands and product names are trademarks of their respective owners.
TecSurge mailing addresses
Corporate Headquarter: TecSurge Pte Ltd • 18 Boon Lay Way • #10-135 TradeHub 21 • Singapore 609966
Contacts
Anton Schreibmueller
President & CEO
Marc Albani
Director Marketing & Communication
Website https://tecsurge.com/