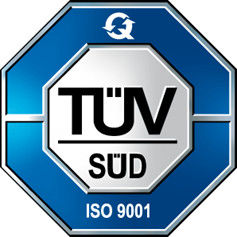 TecSurge demonstrates growth potential with ISO 9001:2015 certification
Singapore, June 30th, 2020. TecSurge achieved above minimum requirements of the ISO 9001 standard, demonstrating its readiness for scalability and growth potential.
TecSurge completed a surveillance audit conducted by TÜV SÜD from June 4-24, 2020, covering the full scope of certification for our Quality Management System (QMS) under the ISO 9001:2015 standard in the Service Operation Centre (SOC) in the Philippines, as well as the Corporate Head Office (CHO) in Singapore.
Given the unique circumstances this year the entire audit was conducted offsite utilizing telecommunication technology which, in our case, is reflective of our core business processes. The external auditor praised TecSurge for its commendable groundwork worthy of a large multinational company and for its leadership's commitment toward continuous improvement.
Anton Schreibmueller, President and CEO of TecSurge said, "I am proud of the improvements to our system that were recognized by the auditor this year and reaffirm my commitment to continuous improvement of our quality management process in the future. I look forward to working with the independent auditor again next year."
TecSurge first attained ISO 9001:2015 certification in 2018 both from the Deutsche Akkreditierungsstelle GmbH (DAkkS) and Singapore Accreditation Council (SAC) via TÜV SÜD. The certification remains valid for three years, subject to annual surveillance audits. Our quality management system is certified by TÜV SÜD according to ISO 9001.
---
For business inquiries, please contact Anton Schreibmueller, Global Sales Manager at anton.schreibmueller@tecsurge.com.
TecSurge specializes in providing services for engineering data and software, and is unique in:
Being independent from engineering services and technology providers, offering impartial advice and solutions aligned with your interests.
Having the industry knowledge, technical expertise and manpower required to deliver results while minimizing disruption to your operations.
Delivering high quality results through focus, specialization and automation.
Using efficient, innovative methods and techniques to ensure you realise your ROI.
TecSurge delivers increased value to our clients through TecSurge OnDemand, TecSurge Academy and TecSurge Service.
© 2020 TecSurge Pte Ltd. All rights reserved. TecSurge and the TecSurge logo are registered trademarks of TecSurge Pte Ltd. or its subsidiaries in other countries. Other brands and product names are trademarks of their respective owners.
TecSurge mailing addresses
Corporate Headquarter: TecSurge Pte Ltd • 18 Boon Lay Way • #10-135 TradeHub 21 • Singapore 609966
Contacts
Anton Schreibmueller
President & CEO
Marc Albani
Director Marketing & Communication
Website https://tecsurge.com/