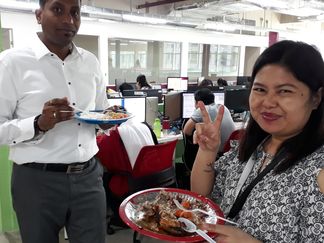 TecSurge Service Operation Centre Office Expansion
Cebu, August 1st, 2018. TecSurge today announced that its office expansion for the premises of its Service Operation Centre (SOC) in Cebu in the Philippines has been completed. The announcement occurs almost exactly one year to the day of the original opening of the Cebu SOC; the expansion is a tribute to the rapid growth of the company operation.
The new office has more than triple the capacity of the former premises vacated over the weekend and will provide room for continued growth in the coming months and years.
Anton Schreibmueller, President and CEO of TecSurge, said: "We promise that our clients benefit from improved efficiency, reliability and flexibility, and reduced project execution risk and cost. As a service company we are living up to our clients' expectations and are continually investing to optimise our resources."
We offer our staff exposure to a diverse range of clients, projects and technology, as part of a friendly and tech-savvy team determined to exceed our customer's expectations. TecSurge provides expert operational, professional and training services across a broad portfolio of industry applications, independently of the software product vendors.
Most often our EPC, and owner/operator customers operate in the process and power industries and engage us to master challenges with their engineering systems and applications in Engineering & Schematics, 3D and Visualisation, Information Management and Materials Management.
---
TecSurge is an independent expert team providing a unique 24x7 worldwide service to efficiently apply, manage and support complex software applications for Engineering Procurement Construction and Owner / Operator companies. Our mission is to deliver applications that are ready for use and enable our clients to maximize ROI through scalability, adaptability and simplicity. Quality, reliability and working in a true partnership with our clients remains at the heart of what we do. TecSurge delivers increased value to our clients through TecSurge OnDemand, TecSurge Academy and TecSurge Service.
© 2018 TecSurge Pte Ltd. All rights reserved. TecSurge and the TecSurge logo are registered trademarks of TecSurge Pte Ltd. or its subsidiaries in other countries. Other brands and product names are trademarks of their respective owners.
TecSurge mailing addresses
Corporate Headquarter: TecSurge Pte Ltd • 18 Boon Lay Way • #10-135 TradeHub 21 • Singapore 609966
Contacts
Anton Schreibmueller
President & CEO
Andy Osbourne
Strategic Accounts
Rengan Jayakrishnan
Global Sales Manager
Marc Albani
Director Marketing & Communication
Website: https://tecsurge.com