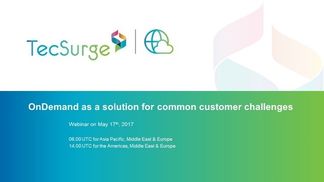 Webinar recording & free download - TecSurge OnDemand as a solution for common customer challenges
Singapore, May 19th, 2017. TecSurge is pleased to announce the successful completion of the free webinar sessions for Technology, Systems and IT Managers, Engineering Managers and Project Managers.
Learn about typical customer case studies to explain how TecSurge OnDemand improves productivity and ROI in project delivery technology.
For a copy of the webinar presentation and to view the recording, please click Past Webinars.
The sessions were held in English by
Waldir Pimentel Jr. - Service Centre Manager
Patrick Mackinlay - Principal Consultant
Marc Albani - Marketing Director
For business inquiries, please contact Rengan Jayakrishnan, Global Sales Manager at rengan.jayakrishnan@tecsurge.com
We are looking forward to speaking with you and making your experience with Managed Services for Engineering Software an easy one.