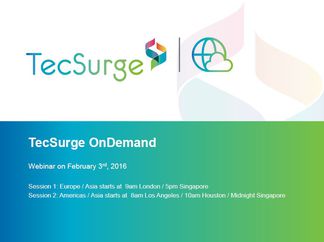 TecSurge OnDemand webinar recording & free download
Singapore, February 3rd, 2016. TecSurge is pleased to announce the successful completion of our free webinar sessions introducing TecSurge OnDemand.
Find out how TecSurge OnDemand provides comprehensive user support and application administration as Managed Services for Engineering Software. TecSurge OnDemand introduces outsourced and professionalised services that drive efficiency and productivity with a dedicated focus on the PP&M sector.
For a copy of the webinar presentation and to view the recording, please click Webinars
The sessions were held in English by
Waldir Pimentel - Service Center Manager
Patrick Mackinlay - Principal Consultant
Marc Albani - Marketing Director
For business inquiries, please contact Rengan Jayakrishnan, Global Sales Manager at rengan.jayakrishnan@tecsurge.com